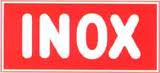 We carry Inox/Prym needles and hooks.  These are available in sizes .60mm to 15mm (hooks) and size 2.00mm to 20mm (needles).  They are made from aluminum, plastic, or steel.  Crochet hooks come with plastic handles or plain.  Knitting needles are available in straights (pairs), double-pointed sets, and circular.
Inox is the traditional name, and Prym is the updated name and appears on current packaging.

New!!  Prym children's needles in sizes 3.00mm, 3.50mm, and 4.00mm.
Prym needles and hooks are sold in blister packages and packaged in boxes of 5.
If you are a Kelsea customer, you may now order Inox/Prym needles using our Prym Online Order Form.
Prym has an excellent selection of accessories.  Information on these are available in our paper price list and will appear in a separate Online Order Form shortly.