New!
Bernat Pop
Contact us for details!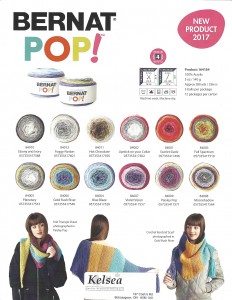 Kelsea Sales Online Order Forms
Check it out!  Quick click order forms are being developed for this website and are available to all Kelsea Customers.  Needle and accessories order forms, Latch Hook Kit, and DMC products order forms are available now.  Check back as we add more forms in the coming months!

Kelsea Sales is a Canadian Wholesale Needlecraft Supplies distributor, selling to independent retailers across Canada.
We carry a wide range of yarns, fibres, Zweigart fabrics and accessories for the needlecraft industry
We specialize in helping the independent retailer.  Let us know how we can help!
Contact us at  orderdesk@kelsea.ca